Новости
As an official reseller, RETN provides remote access to DTEL-IX services to both wholesale and corporate customers at 200+ RETN PoPs all around the world across its transboundary network. DTEL-IX became the 4th IXP connected by RETN with 100GE interface and it takes the total interconnection speed between DTEL-IX and RETN up to 120Gbps. DTEL-IX became the first IXP in Ukraine to provide 100GbE connections.
"DTEX-IX is the biggest IXP in Ukraine and initially we connected as a regular member. A couple of years ago we signed a partnership agreement and became an official DTEL-IX reseller, allowing us to provide RETN Remote IX services connecting clients to DTEL-IX. We believe that with such joint projects we contribute to the development of local connectivity while enabling our international and Ukrainian clients and DTEL-IX's members to benefit from peering in Eastern Europe," – said Elena Lutsenko, Managing Director RETN LLC in Ukraine.
According to Matthias Hartmann, co-founder of DTEL-IX, connectivity on this scale is exceptional in Ukraine:
"In several years' time 100GE connections will become common in the region. This co-operation between RETN and DTEL-IX is certainly good for our companies, improving connectivity for DTEL-IX's members and RETN's international customers. It is a major statement that both RETN and DTEL-IX are committed to development of the local market and to the partnership."
About DTEL-IX
Digital Telecom IX (DTEL-IX) is an independent Internet Exchange Point in Ukraine with 142 connected members from Eastern and Western Europe, CIS countries, US and Asia. DTEL-IX is constantly growing since 2009 when the IXP was launched and in the first half of 2017 DTEL-IX reached 620 Gbps utilization in peak time. DTEL-IX offers public and private peering services, gives the possibility to engineer the traffic using communities and provides IaaS (Infrastructure As a Service) to small and middle sized ISPs.
About RETN
RETN is an international network service provider offering a range of services across its own fibre-optic network. RETN has over 32,000 km of fibre on its pan-European network which connects 29 countries across Europe, Asia and North America, with a strong presence in the high growth markets of Eastern Europe and Russia. The RETN backbone (which is connected directly to all major carrier-neutral DCs) carries a large proportion of international traffic in the regions it passes through. The DWDM based network is designed in a ring-architecture offering multiple layers of redundancy. The network's unique geographical footprint provides over 5 Tbps of capacity over its four primary routes between the West and Asia.
Contacts RETN:
Daria Soroka
Communications Officer
Tel.: +44 20 7517 6400
RETN in Ukraine
RETN LLC
Tel.: +380 44 284 04 48
Contacts DTEL-IX:
Sergey Kolesnichenko
Business Development Director
Tel.: +38 067 508-35-16
Significant growth of the international members amount in DTEL-IX gave us an idea to improve the flexibility of the IPv4 routes management by placing to special BGP attribute communities sent to peers of the information about AS country and continent origin. At the same moment our members can use these communities and build filters on their border routers and control outgoing traffic.
In general the community looks like 6500M:10CCC, where M is a continent code and CCC is a three digit country code as defined in ISO3166. The information about origin of each AS has been taken from Maxmind GeoIP Database.
For example, BGP community for AS15169: 65007:10840 of the route 157.191.97.0/24 means this community belongs to a member from North America (7) and the country is USA (840).
Full and always up-to-date description of our communities and tools to engineer the traffic passing our IXP is described on RIPE NCC's website. The same information can be found on the Route Server page of our website
Both route servers have got the ability to color the ASes based on their geographical origin. The geographical coloring functionality is not available yet for IPv6.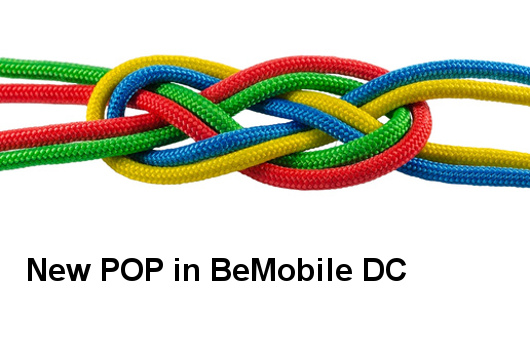 Starting from 01.02.2017 DTEL-IX is launching its new POP in Bemobile DC.
It will be possible to connect with 1/10/40Gbit/s ports there.


DTEL-IX's customers will get the following benefits:
direct access to clients in BeMobile and the ability to create logical links over existing IX's network
Virtual POP Services and dedicated ports on our equipment to avoid placing your own switches in the DC;
possibility to order cross connects between carriers in BeMobile DC having only a contract with DTEL-IX
significant savings on rolling up new services in BeMobile, all services are launched after your email request to

co-location of any active or passive equipment in the premises under DTEL-IX control
interconnection with DTEL-IX's network in new location with access to all peers
1 Route Server will be physically moved to a new location for redundancy
local interconnection with world's known traffic generators like Google
24/7 monitoring of the network
remote hands in BeMobile
As of 20.01.2017 DTEL-IX made possible to connect to its network in the following locations:
50, Gaidara st. (Newtelco)
21а, Kurenivskiy drive (Bemobile)
9 Leontovicha st.
10, Dorogozhitskaya st.
DTEL-IX is an Internet eXchange point in Easter Europe with customers connected from countries all around the region:
Ukraine (all major carriers connected)
Poland
Bulgary
The Netherlands
Russian Federation
Germany
Hungary
Georgia
Moldova
Belarus
USA
UK
Latvia
Romania
Denmark
Our memberlist is growing
The year 2016 is coming to the end. People get ready for holidays and Christmas vacations, but DTEL is working until the last connection order. It is totally amazin how much customers decided to get connected to DTEL-IX or upgrade their connection to the IX. 8 new AS'es and 4 new 10Gbps ports.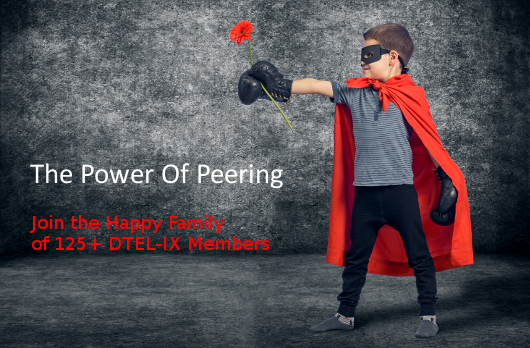 The geographic expansion
We are not trying to name ourselves the best IXP in Kiev, Ukraine or in Europe, but we simply the best IX on our street. 2017 is a best year to expand our business to new streets where we are going to be the best IXP on. We are rolling our POP in
Bemobile DC
. We thing there will be a year when this POP will switch the same amount of traffic as our POP on Gaidara 50. And the first steps will done already in January.
Where can we meet in 2017?
We make everything possible to ensure you continue to send us connection and upgrade requests. To make our communication a bit easier and more efficient we will visit all important events in Ukraine and abroad, we will also come to your offices and invite you to our one.
Wishes and advices to our customers
The life us unpredictable, that's why it is always nice to have an extra port to DTEL-IX. And yes, you read it well, it is a clear advice to our customers, it is not a wish to ourselves.
International transit carrier RASCOM and internet exchange point DTEL-IX concluded a reseller agreement that allows RASCOM customers to get remote connection to Digital Telecom IX (DTEL-IX).
On the occasion of the agreement, Denis Ganza, CEO of Rascom, said: "We're happy to provide to our customers an opportunity of remote connection to DTEL-IX. This connection with capacity from 1Gbps up to 100Gbps is available at any point of presence of our company in Moscow, Saint-Petersburg, Helsinki, Stockholm, Copenhagen, Amsterdam, Frankfurt-am-Main, etc."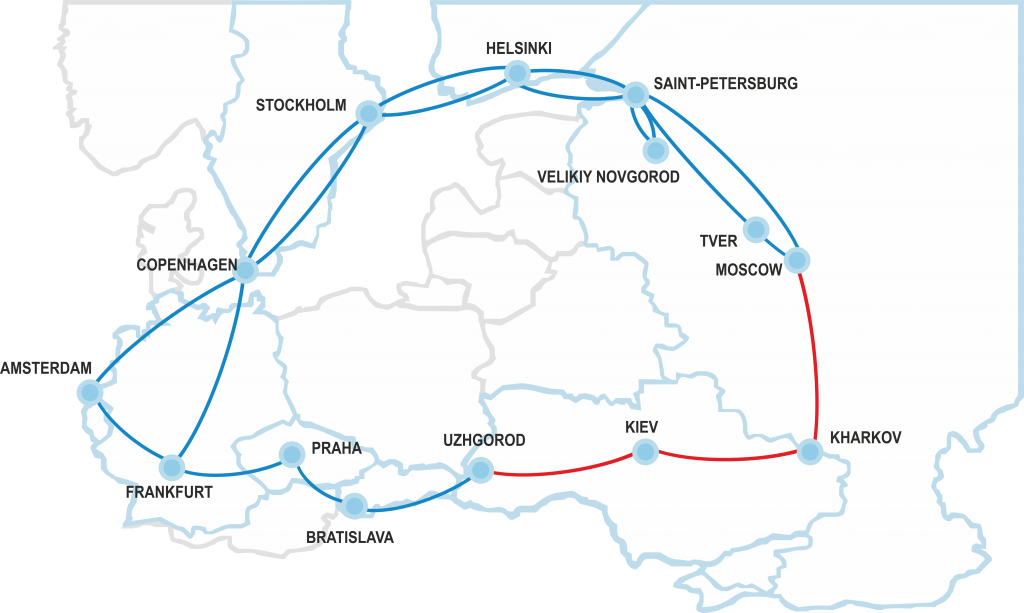 Under signed reseller contract RASCOM customers are able to get remote connection to DTEL-IX keeping its contractual relations directly with RASCOM, but having full access to professional technical support of internet exchange point DTEL-IX. Such cooperation scheme has been chosen based on best experience of partnership cooperation with world leading internet exchange points and on market members it's optimal.
Matthias Hartman, co-founder of DTEL-IX said: "Expansion of geography of access to internet exchange point is the key to traffic growth, improve connectivity of networks of European and CIS operators connected to DTEL-IX. Convenient location of DTEL-IX in Newtelco data-center in Kyiv allows us to be in the center of progress of European telecommunications, and we're happy to be a part of this process. "
About RASCOM
CJSC RASCOM is leading supplier of international capacities for carriers of CIS countries. The company has its own infrastructure (PoPs and fibers) along the route Moscow - St. Petersburg - Helsinki - Stockholm - Copenhagen - Frankfurt-am-Main - Amsterdam - Prague - Bratislava - Uzhhorod. The company offers to its clients the managed data, IP-transit services and various carrier grade solutions in St. Petersburg, Tver, Novgorod and other cities in Central and North West parts of Russia.
About DTEL-IX
Digital Telecom IX LLC. (DTEL-IX) is a carrier neutral IXP in Ukraine with 125 connected memebers from Eastern and Western Europe, CIS countries. After the launch in 2009 DTEL-IX shows steady growth and in the first quarter of 2016 IXP exchanged well about 480Gbps. The IXP offers private and public peering, private VLANs services.
Contacts of RASCOM:
Vladimir Gromov
Sales director
Tel.: +7(812) 702-25-24
e-mail:
Contacts of DTEL-IX:
Sergey Kolesnichenko
Business Development Director
Тел.: +38 067 508-35-16
e-mail: