The DTEL-IX Data Center is DTEL-IX's premise located in the heart of Ukrainian telecommunications and intended for an exclusively per-unit colocation of the network equipment of Traffic Exchange Members.
The first stage of the data center put into operation is two rows of five 48-unit Vertiv cabinets with a depth of 1.1 m. The total capacity of the room is 30 cabinets.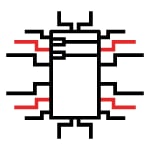 The console cables are preinstalled.
Sixteen console cables are connected to each cabinet. All of them are attached to a specially designed patch panel. Early installation and expansion of console cables allow you to quickly and easily connect the equipment placed in the cabinet to the console server.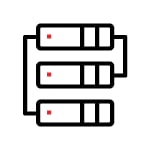 Console server in each row.
A separate console server in each row of cabinets simplifies the connection of client equipment to it. If necessary, you do not have to look for a specific long patch cord to reach the server from another row of cabinets.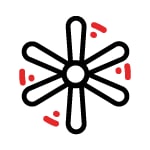 Optimal cooling.
A "cold corridor" is organized between each of the two rows of cabinets. It is a system of cold air supply from air conditioners through ventilation grilles built into the false floor. The cold corridor has a sectional covering. It can be removed, if necessary, from the work of the cabinets. In addition, it has impact-resistant doors to keep cold air between cabinets.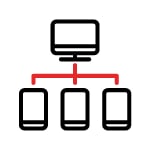 Physically spaced cable routes.
The room has two spaced cable entries for optical cable. Cable routes from each cable entry into the building to the entrance of the DTEL-IX data center have no intersection points. It ensures, if necessary, full redundancy of services that pass through the optical cables installed in the room.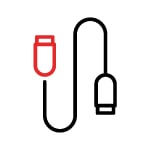 All operators are at a distance of one patch cord.
Each cabinet has an optical cable that is welded to ODF Easy Lan. The other end of each cable is routed and welded to ODF Panduit at the Newtelco Ukraine cross–data center. It allows you to quickly and easily organize optical connections of the equipment located at DTEL-IX premises and any operator located in the Newtelco Ukraine data center.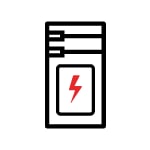 Redundant power supply system.
The room has two independent inputs for electrical cables, which are connected to two separate electrical panels. By default, all equipment in the cabinets are connected to two power lines, so only equipment with
two power units
shall be accepted for installation. A redundant electrical connection scheme avoids downtime due to a lack of electric power equipment at one of the inputs.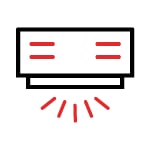 Reserved air-conditioning system.
The DTEL-IX data center is equipped with two industrial air conditioners, which are constantly in active-standby mode. This mode ensures an uninterrupted supply of cold air to the room and, accordingly, the optimal temperature in it.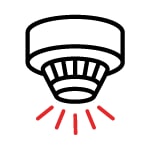 Gas fire extinguishing system.
A gas fire extinguishing system was installed and put into operation in the data center. The pipes of the system are connected to each cold corridor through a  hole in the cover. It allows you to ensure the most efficient direction of gas in case of ignition of equipment in the cabinet.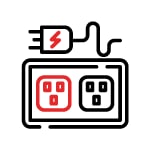 Everything you need is always at hand.
There are household sockets in each cold and hot corridor. They allow you to connect the devices needed to work with equipment or cable infrastructure. In addition, engineers can use them to connect laptops and other electrical devices. There are also specialized cabinets and mobile stands for storing necessary tools and consumables. It allows you to quickly and easily perform any kind of work with equipment and infrastructure in the room.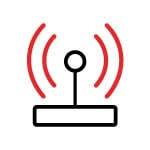 Shared Wi-Fi network.
The DTEL-IX data center, like all of our other
points of presence
, is located in a single Wi-Fi network. Each of our rooms has a single login and password to access the network. This is convenient for engineers who work on our various sites.